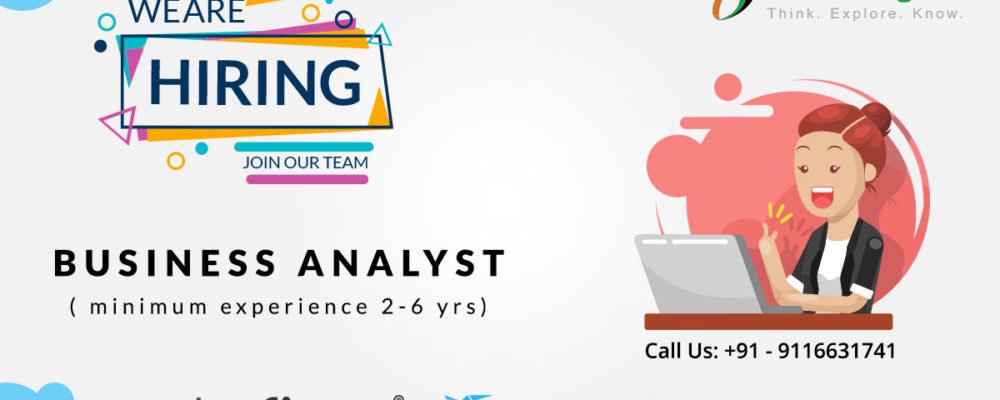 417 Alankar PLaza, 302039, Jaipur, Vidhyadhar nagar, Central Spine
Business Analyst (2-6 Yrs)
Prior experience in Business Analyst
Generates timely status reports, time usage reports and expense reports as requested by management.
Excellent verbal and written communication skills.
Talent for effectively interacting with individuals at all levels of the organization.
Ability to work within a fast-paced and constantly changing environment.
Self motivated to work independently with team support to close business.
Demonstrated commitment to completing tasks and objectives.
Excellent research skills, analytic skills, client-interfacing skills, presentation skills, communication skills are a must.
Highly motivated, persistent and result-oriented.
Independent, resourceful, excellent analytic and communication skills. Ability to perform independently
Monitor customer support for technical solutions proposed throughout the sales process, and alerts the sales and account team to potential risks of deal closure.
Generate the leads of prospective clients.
Communicate to clients about the services of the company.
Will generate the business as per target assigned by reporting authority.
Follow-up with clients for updating products and services.
Ability to develop all project related documents like requirement document, system design document, use cases, test plan, training manual etc.
Handling a team and also responsible for client deliverable.
Extensive experience in solution design, client management, client demo, conducting design & development workshops.
Lead the collection, analysis, documentation, and coordination of business requirements and business rules.