Does it ever surprise you, if you suddenly come across news of some company gaining overnight success? And it is all the more surprising if the company just pops out of nowhere. Like a few days ago it was not into existence and now it is a star that everyone is talking about.

Of course, it does raise an alarm. In such a scenario, two things are possible. Either the news is fake or this company found some magic to get successful overnight. Well, the first case could be true, but the second option is just out of question. Because there is no magic like that.

But, still, if I stick to my earlier asked question. What if any company get overnight success. You will think it is not possible and probably too much into digital marketing has taken over my head. Ok, I agree overnight success is not possible. At least not in the literal sense.

But yes, you can reach the success point at a faster pace compared to others, if you implement the right strategies.

And today my topic is something that is going to give you insights about one such strategy.

You might have heard of the term 'Ansoff Matrix'. If not, I will quickly give a brief intro on….

What Is the Ansoff Matrix?
If we talk about the technical definition, the Ansoff Matrix is basically a management tool that can help you to determine and understand the growth strategy of your business. Based on the reports and figures produced by implying the Ansoff Matrix, you will get a clear picture where you should actually focus on to grow your business.

This will help you in strategic marketing planning where you can focus on important factors like how to grow revenue. This can be done in two ways. Either by developing new products or services or entering into the new market.

Ansoff Matrix is also known as the 'Product-Market Matrix'. It was first introduced in 1957 by a Russian/American economist named Igor Ansoff.

When any business thinks about expansion or growth, the risk factor is always there. And you, as a business if are ready to take this risk, you need to do a thorough evaluation before implementing any strategy. Evaluation about what is possible if you go forward with your idea of growth and what is at stake.

And Ansoff Matrix, exactly helps you evaluate this.

Now let us understand…
How The Ansoff Matrix Works?
Now that you are determined to take the risk and grow your business, you need to understand how you use the Ansoff Matrix to your advantage. It is an invaluable tool, that will help you to understand and manage the risks and plan strategic growth opportunities.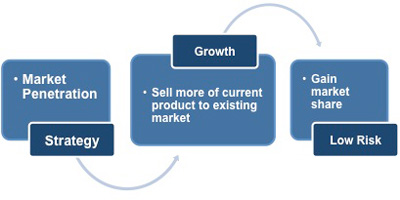 This Matrix helps you to plan about product and market development by keeping in mind different ways to grow existing products and new products and in existing markets or new markets.

The biggest advantage of using the Ansoff matrix in your business strategy is its 2×2 matrix graph. It clearly states what is your business's current state and what can be the potential risk factors.

According to the Ansoff Matrix, there are only two approaches that help you to develop a growth strategy.

Product Growth (what is sold)
Market Growth (who it is sold to)
This, if seen in detail, delivers four strategic approaches that a business can use to grow, namely:

Market penetration
Product Development
Market Development
Diversification
Market Penetration

The lowest risk strategy that a business can implement is to continue selling the existing product or services in the existing market. I mean how much risk can it be to sell or do business in the market that you are already dealing in. You already have a customer base and a well-established market channel. 
This means you remain where you are without any growth or decline. But this is only possible if you are ready to take the risk of giving competition to other similar businesses by using mix marketing elements like giving a discount on the price and doing additional promotional activities to remain active or penetrate into the existing market.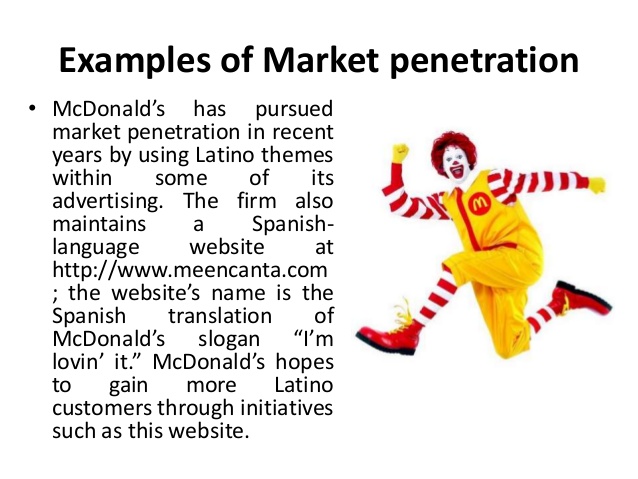 Market penetration in the Ansoff Matrix basically means getting more from an existing product or service in an existing market. 
The benefit of Market penetration is:
*There is very little risk involved and it leverages the company's current products.
The disadvantages of Market penetration are:

*It is a limited approach and does not offer you a long term or high growth.
*Eventually, your marketing strategy will outgrow and you will have to think about other strategic approaches. 
Product Development

Product development is about continuing with the current product or services and developing new products as well for the current market. The risk factor in this approach is a little higher compared to Market penetration.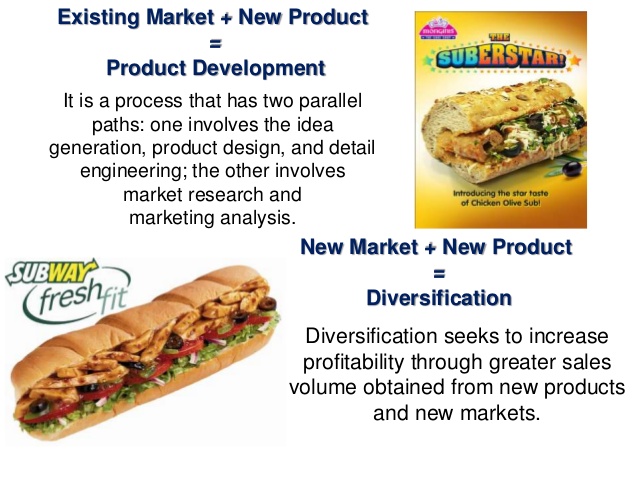 Before you implement this approach, you need to do in-depth research about your customers, the existing market, what is their needs and demands and how capable your resource or business is to fulfill these demands. 
In short, it means developing new products or services for existing customers and markets. You can build strategies and sell new products through cross-selling. For example, you are selling digital marketing services already to your existing customers. By applying the cross-selling tactic you can also offer to create a website for their business along with providing them with your digital marketing services. 
This way you can introduce a new service to your existing customer and grow your business. By doing this you can also ensure that your current customer does not look up to your competitors for other services. If you give them what they want, they will take the full package from you. 
The benefit of Product Development:

*If you keep an eye on the feedbacks and demands of your existing customer, you can develop products or services to meet their needs and will not have to invest extra in marketing. 
The disadvantages of Product Development:

*The risk level is higher in this approach.
*Launching a new product or service requires heavy investment in technologies and strategies.
Market Development

The best time to use this approach is when you come to the saturation point of the existing market. When you think about expanding your market, it can be either in context with customers or locations. By implementing the market development approach, you sell your existing product or services to a new market or create a new customer base. 
Now doing this is again taking a huge risk. Because you don't know what complexities you might face in the new market. 
One way of implementing this approach is by keeping flexible prices according to your customer. For instance, you are selling a package that includes SEO, SMO, Content Marketing and PPC Advertisement at an 'X' amount. Now to attract new customers you can do two things. One is selling the same package at a lower price. Or adding a few more services into the package and sell at the same price.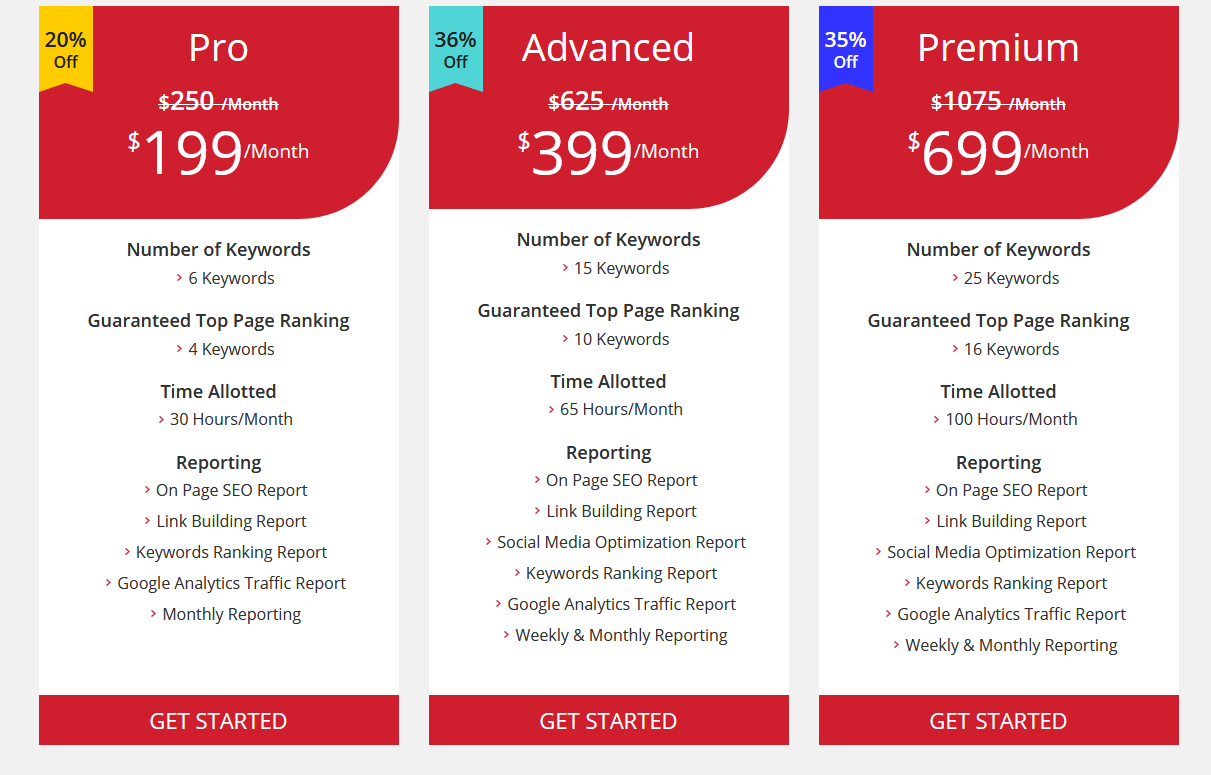 You can consider using the market development strategy in combination with some level of the product development approach. Before hitting the new market, do intensive research about it. And the best way to do this by doing the PEST (Political, Economic, Social and Technological) analysis. This will give you a clear idea about which factors are influencing the market and how you should plan your marketing strategies.
The benefit of Market Development:
This is a good alternative to a far more risky and expensive strategy for product development. 
The disadvantage of Market Development:
Since you are unfamiliar with the needs and demands of a new market, you might lack the knowledge or skill to deal with the complexities.
Diversification

This is considered to be the riskiest approach compared to the other three. Here, you plan and build strategies about selling a new product or service to a new market. But at the same time, if you understand and handle it well, this approach also has the potential to give you the highest return.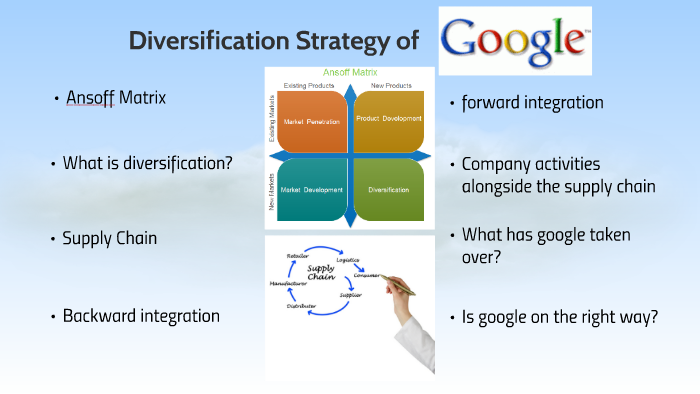 The risk factor here is more because, when entering a new market with a new product, you are bringing in a new concept with you. If you succeed with this new concept, the chances are high that your competitors will follow you and succeed faster than you because they have your example to learn from. 
They can take into account all the mistakes or wrong strategies that you adopted and completely avoid them. This means by the time you take hold in the market and establish your business, your competitors may surpass you and be more successful. 
Therefore, before taking this risk, you need to be very sure of all the pros and cons and have a backup plan ready, in case you fail. 
The benefit of Diversification:

*You get the opportunity to own a market and differentiate your company from your competitors. 
The disadvantage of Diversification:

*This is the riskest approach of all in the Ansoff Matrix.
Other than these four approaches, there is yet another strategy that Ansoff Matrix offer, that is the 'Nine-box Ansoff growth Matrix' for more sophisticated marketers. In this approach, you focus on a modified version of your product or services in an existing or new market, rather than launching an entirely new product. 

For example, you are already selling software, with the nine-box approach, you can think about selling the same software but with an upgraded version to an existing or new market.

This approach also helps you to differentiate between product extension and product development and market expansion or entering into a new market.

So, this was all about Ansoff Matrix and how you can use this to grow your business. Apply this matrix in your marketing strategy as per your requirements and you never know, you can be the next company in news to pop out from the blue and gain overnight success.

Stay tuned for more such articles. You can also mention in the comment box below if you wish to read about any particular topic. And of course, do not forget to add your views about this article.