To build an empire, you need perfect materials!
Today, you are going to get acquainted with some of the best digital marketing tools. They are surely going to change your digital marketing game, forever.
While you might think that there are so many blogs on tools out there, these are the best digital marketing tools you need.
Best Digital marketing tools are like your perfect companion. They hold bricks for you as you place them one by one, building your empire.
Today, there are an endless number of tools in the market. Diverse tools have diverse uses.
But, we are going to talk about only some selective tools that are practical and reward great outcomes.
Also, these are the tools that we, as digital marketers use. What's great about this blog is – you are going to get some insider tips!
These are the best digital marketing tools you need:
UberSuggest
BlogAbout
Hootsuite
Trello
Google Analytics
Canva
Drive digital website analysis tool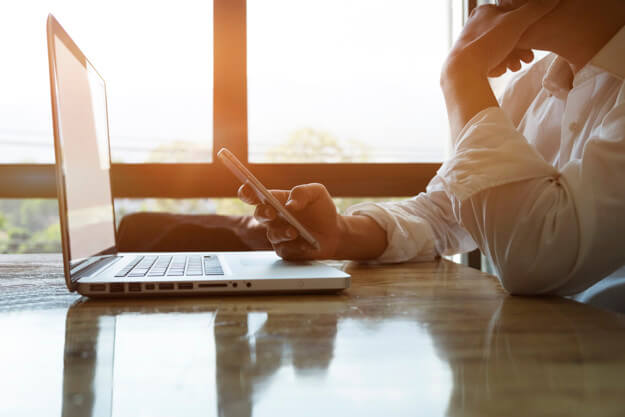 Let us have a detailed look at them:
1. Ubersuggest
This is hands down the best digital marketing tool to find out the keywords.
It tells you, the best keywords and other related attributes. And best keywords here mean – the ones that are trending.
It helps you curate content accordingly. Also, the tool reveals how much volume is the keyword attracting and other great attributes.
Let us understand them one-by-one.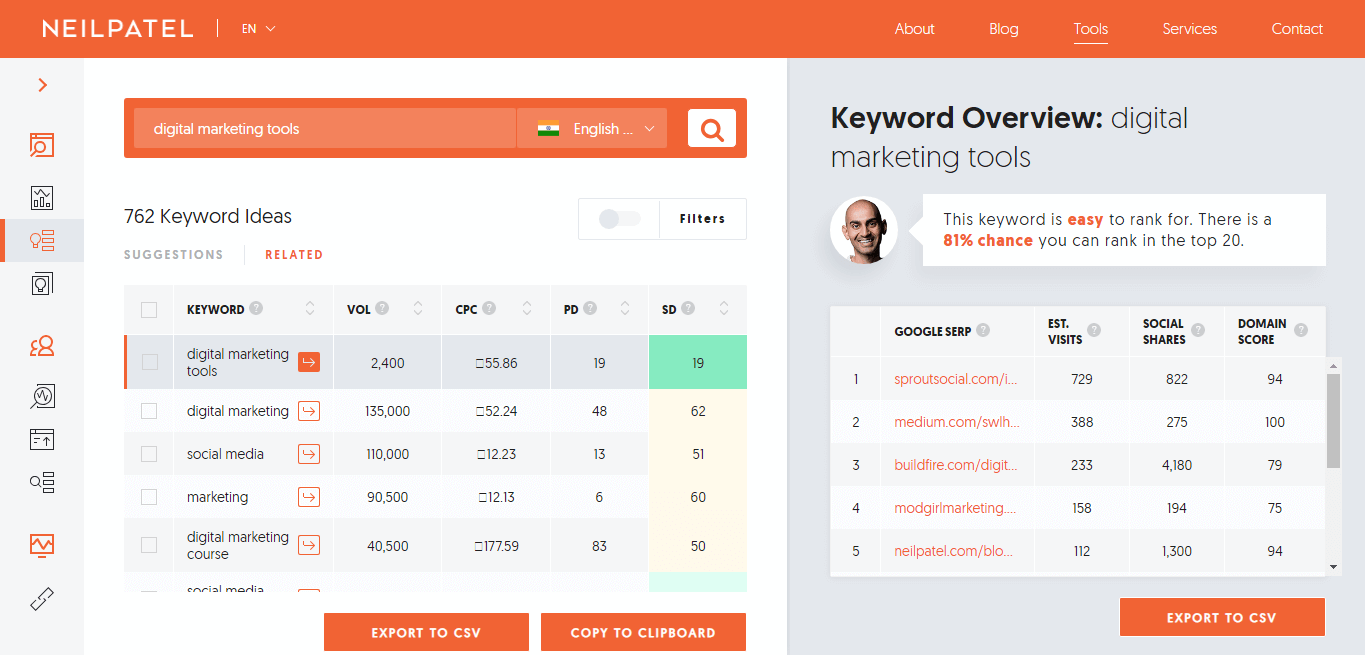 To take an example, if you search 'digital marketing tools' in the search box, it shows you:
Vol.:

The number of searches this keyword has in a month.

CPC:

This stands for cost per click. If you wish to run paid ads in Google, this is the amount you would have to pay.
And more a marketer pays for a keyword, more valuable it becomes.
PD:

this reveals the number of competition in the paid ad section.

SD:

This is the estimated competition in the organic section. Higher the number, more competition it reveals.
While this was the left section of the page that we discussed, let us look at the right section as well.
This is a great recommendation by the tool. It is based on all the attributes and tells you the chances you hold to rank.
Also, It shows the list of your competitors who are using the same keyword(s). And, also the number of clicks they are getting.
2. Blogabout
This is the tool if you really want catchy blog titles that grab the reader by the eyeballs.
This is how the blog title generator tool works:
You enter the keyword in the search box

The tool comes up with amazing blog titles. That too customizable!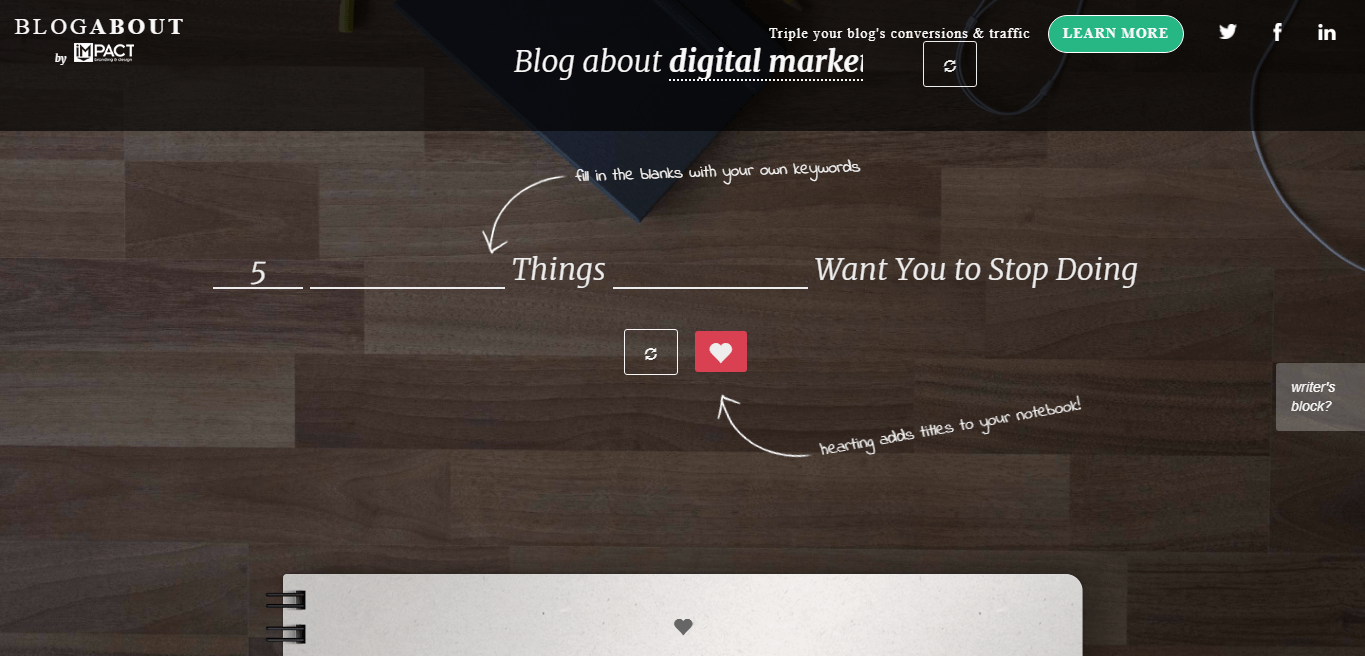 Really! this is how easy it is to get amazing blog titles. With the BLOGABOUT tool, you can even save the title(s) for future reference.
These tools are great when you want to do some brainstorming or are looking for new ideas.
This is like you are discussing ideas with your colleagues, for your next big blog.
3. Hootsuite
This is amongst the best digital marketing tools that you can use to scale your social media platforms.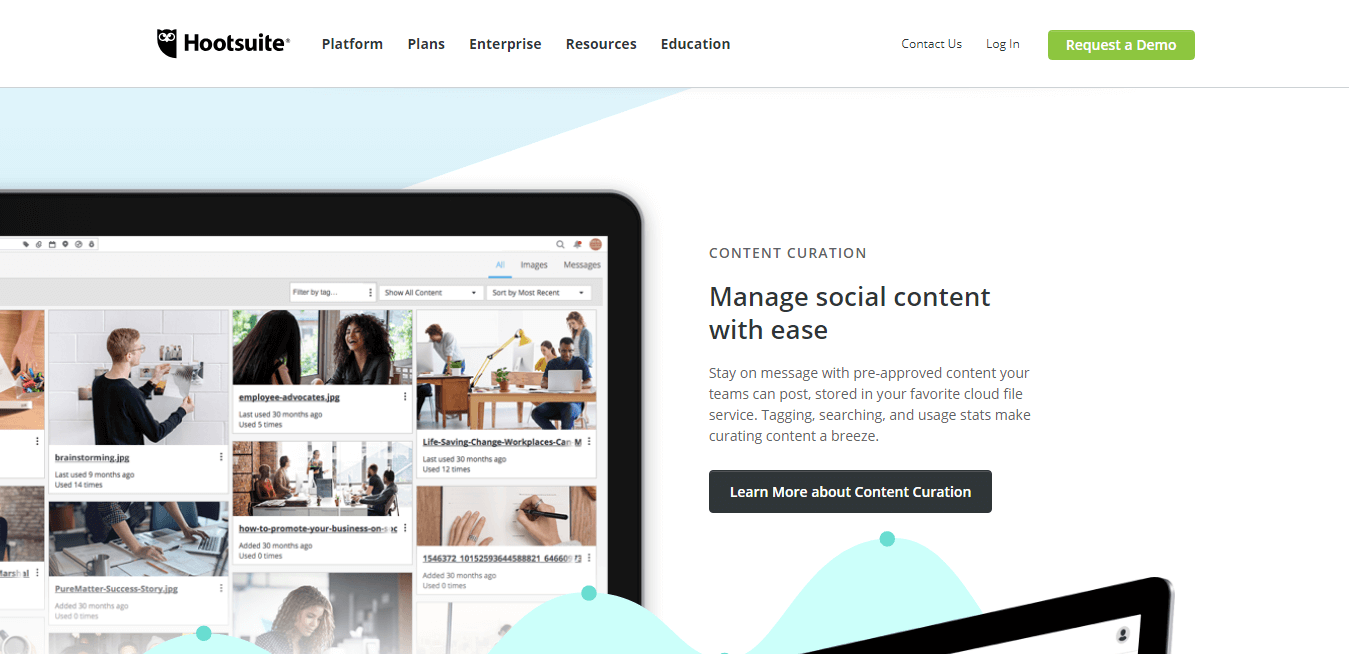 This tool lets you manage social media accounts fairly easily. It facilitates smooth workflow, track results and mainly, schedule posts.
The bottom line is, this tool offers:
Managing workflow

Scheduling social media content

Managing social media accounts

Measure real-time results
So, this is yet again one of the best digital marketing tools you need. Tools like these not only save a chunk of your time but also enhance productivity.
4. Trello
When you have so many tasks on hand, you definitely need this tool.
This is a tool, that not only lets you manage your work but also work collaboratively.
This is a fun, flexible and a creative way to manage your tasks, and stay organized, always.
Also, in order to do things productively, you need to stay organized and this tool lets you do just that.
5. Google Analytics
This tool is indispensable when you have your business online.
You have got to know how your content on the web is working.
This tool gives you insights into your data and tells you how consumers are interacting with your content.
It is crucial that you know your customers and customizes the content accordingly.
Through this tool, make data work for you, reveal insights and boost your business.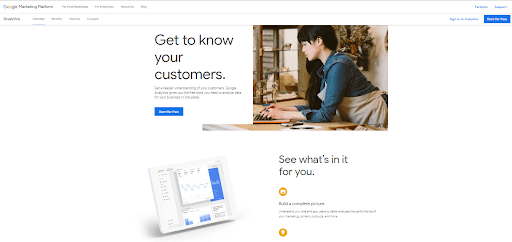 6. Canva:
Now when you are curating content, one thing you would surely need is – graphics.
And, not all of us are designers. But thankfully, we have a tool that lets us create graphics, being a non-designer. Canva is a tool website to create graphics.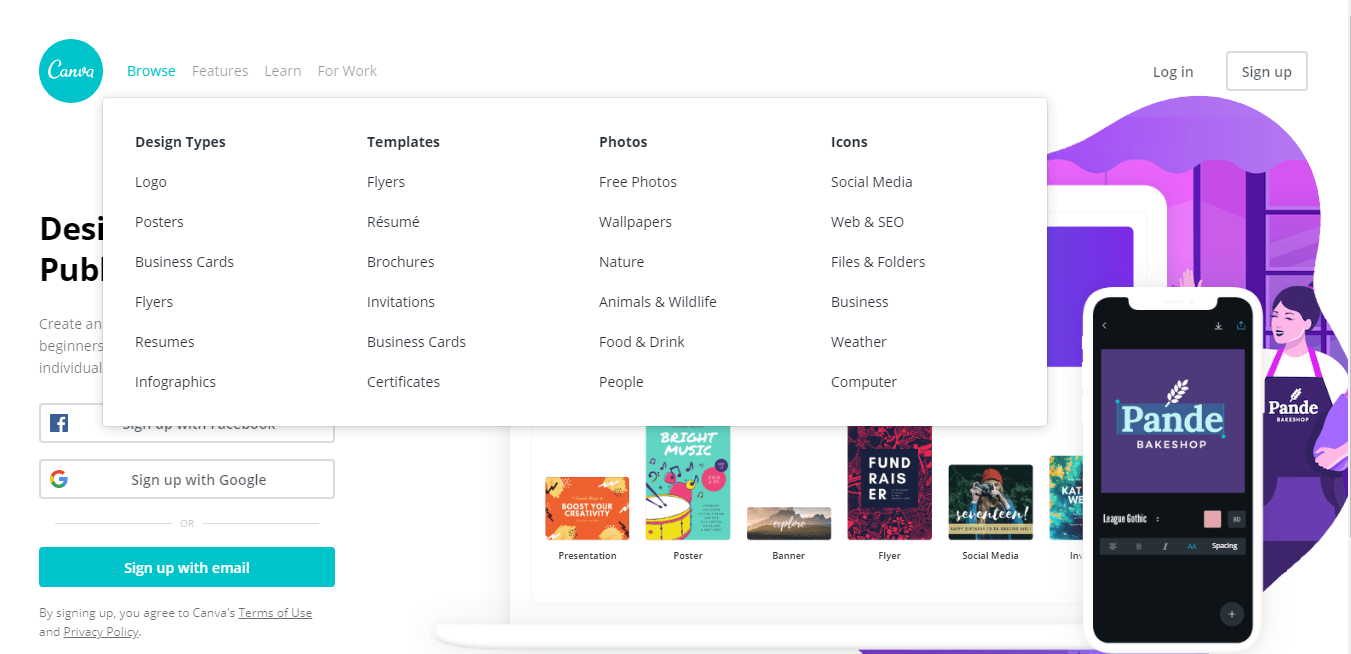 The tool is based on a drag-and-drop format that facilitates easy access to its users.
Also, anyone can create creative images for either social media or blogs, without any hassle.
With this tool, you get to play around with so many different designs, templates, icons, etc.
This is what makes it one of the best digital marketing tools. Not only does this aid creativity but is effortless.
You won't blame us for including our tool as well, would you?
Well, to be honest, this is one of the most important tools from our best digital marketing tools list.
This tool lets you analyze your website and get the SEO score for the same.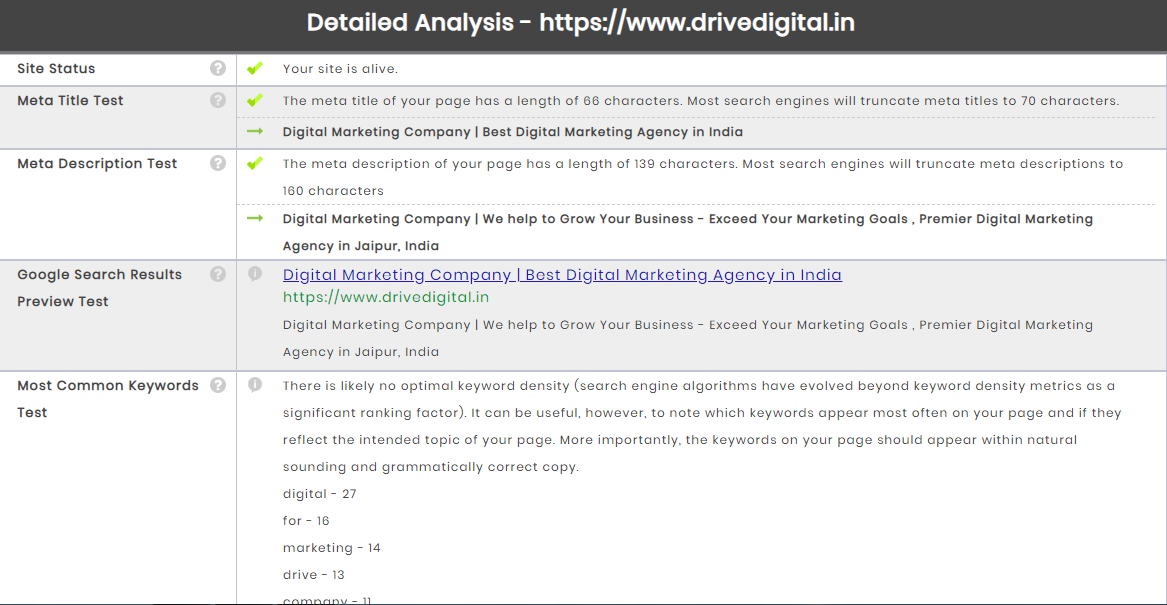 Features provided by this tool are:
Check SEO score

Complete website analyses

Feedback on desktop and mobile version of the website

Suggestions to improve the necessary areas

And "How To Fix" content for each error.
What's great is, this tool is completely FREE!
So, we hope this blog provided you with the best digital marketing tools that you need to scale your business.